Birchwood Building, Leatherhead
Nuveen
A successful 'turn-around' project, from purchase, complete refurbishment, full letting and finally sale, in less than 36 months.
Nuveen utilised our one-stop-shop combined services of Interiors, Architecture and Branding enabling us to create a home-from-home building of the highest standards.
With a major focus on reducing CO2 emissions, we improved the EPC rating from D to A, through a laser focus on carbon reductions.
"It's a pleasure working with you, your innovative and detailed approach has led to many successful projects, adding considerable value for our investors".
Reggie Noel, Nuveen Global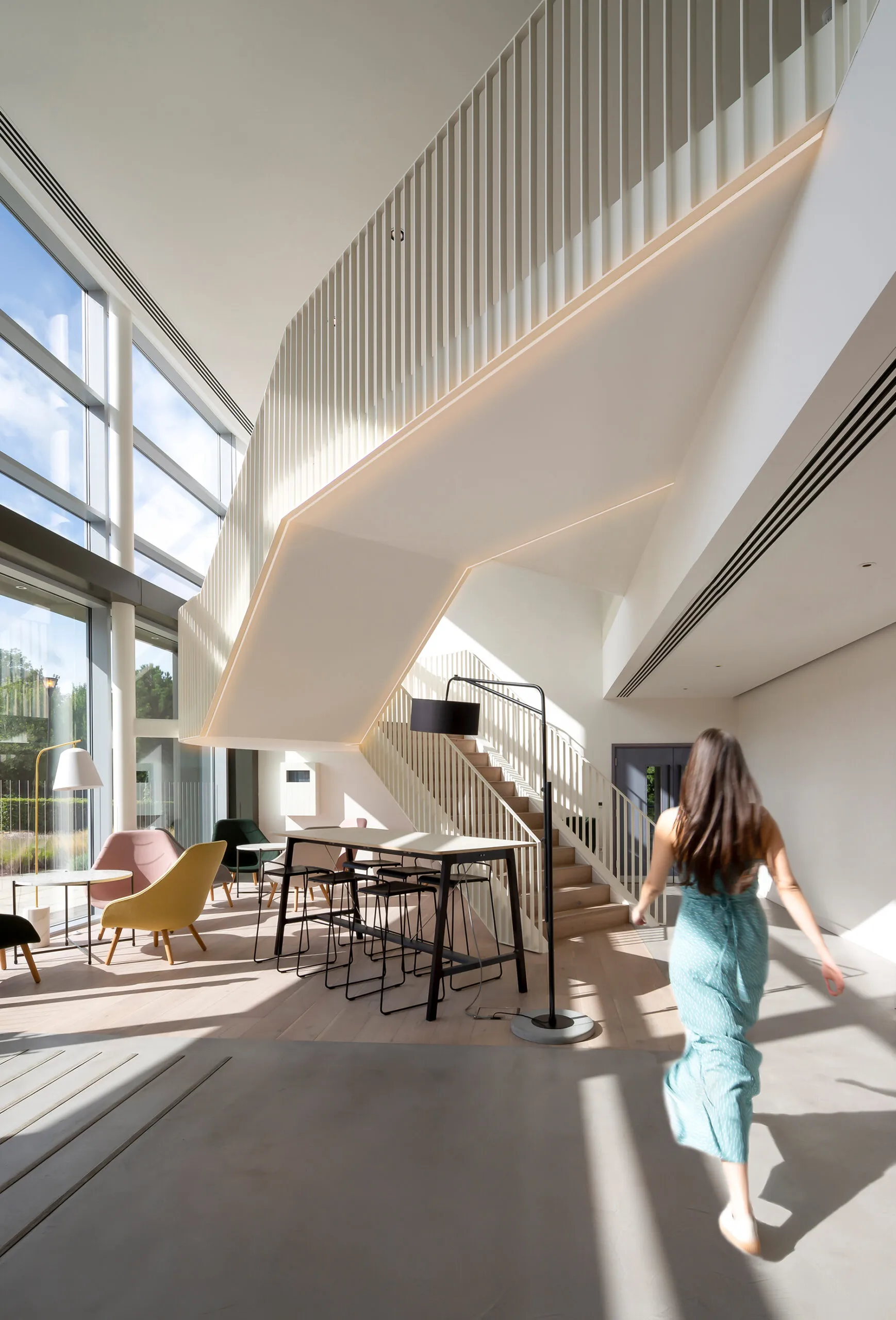 Key works included:
– Provision of a new glazed entrance, canopy and exterior seating.
– A stunning new curved, hanging feature staircase.
– 8 separately designed seating, work, rest and play areas.
– 75% reduction in electricity usage, 40% reduction in water usage, 100& increase in wellbeing.
– New courtyard garden and terrace, together with electric charging points and 40 bike stores.
– Significant space was gained through removal of old staircase, careful efficient space planning and thoughtful layouts.
The inspired synergy between our Branding team and our Architecture / Interiors teams created the complete Birchwood Building project.
The vertical feature balustrading was repeated throughout the branding and interiors; on the logo, window decals, flooring and all print and digital marketing material.
Our fully interactive website, logo, brochure and marketing material both entice and educate potential tenants on the huge benefits of this courtyard building. See the full branding project here.
To see another project where our interior, architecture, design and branding teams completed a full refurbishment, redesign and rebrand of a commercial property project, have a look at this project here: 27 Throgmorton Street.